DR. PAUL HOLLOWA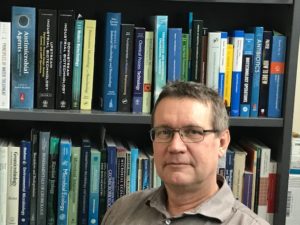 Department of Biology, the University of Winnipeg
Title: Antibiotics and the Single Chemist
"Even diseases have lost their prestige, there aren't so many of them left. Think it over… no more syphilis, no more clap, no more typhoid… antibiotics have taken half the tragedy out of medicine."     Louis Ferdinand Celine
Abstract
Antibiotics have been called the single most important therapeutic discovery in the history of medicine. While vaccines and public health measures contribute to our freedom from disease and while antibiotic resistance threatens our current use of antibiotics they are still our main line of defense against infection caused by pathogenic bacteria and fungi. Antibiotics have gone from one compound detected in 1929 to about 300 in clinical use today from an estimated 70,000 known antibacterial compounds. Chemistry has played an essential role in the discovery, characterization, structural determination, and the elucidation of the biosynthesis of antibiotics. The relative cheapness and availability of life saving antibiotics is largely due to chemical and biochemical engineering, in fact the basis of most modern pharmaceutical production and many pharmaceutical companies is due to the pioneering of antibiotic biochemical engineering. In addition, chemical synthesis has produced tens of thousands of variations on naturally produced antibiotics and even developed fully synthetic ones. Chemists play a role in every step in the production of an antibiotic from the fermentation to its final form in a pill or capsule, from discovery to clinical trials to production to monitoring the final disposition of antibiotics in the environment. A few of these high-lights will be mentioned here.
---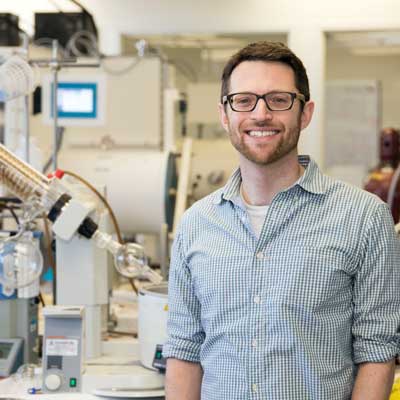 Dr. David E. Herbert
Department of Chemistry, University of Manitoba
Direct Electrochemical Hydrogenation of C=N and C=O Bonds in Acidic Solution
Dihydropyridines (DHPs) are biologically active structures and a useful class of organohydride donors that mimic the nicotinamide sub-unit of NAD(P)H. Similar to the effect of carbonyl substituents in Hantzsch esters, benzannulation of pyridines can both impact the ease of DHP formation and their hydricity once formed. For example, 1,2-dihydrophenanthridine, the DHP of phenanthridine (3,4-benzoquinoline) is a competent hydride donor that can be generated catalytically and used in tandem with chiral Brønsted acids in the (catalytic) enantioselective reduction of C=O and C=N bonds.[1] In these cases, H2 at pressure and transition metal catalysts or additives were required to (re)generate the DHP. The potential to replace fossil-derived H2 or traditional hydride reagents with protons (H+) and a renewable source of electrons (e-) in hydrogenation reactions and organic reductions is an appealing target in sustainable chemistry. In this presentation, I will discuss our development of an electrochemical approach[2] to the hydrogenation of a benzannulated pyridine, phenanthridine, to a DHP 1,2-dihydrophenanthridine, as well as the broader extension of this chemistry in the hydrogenation of C=N and C=O bonds and applications in electrochemical reduction CO2.[3]
[1] (a) Chen, Q.-A.; Gao, K.; Duan, Y.; Ye, Z.-S.; Shi, L.; Yang, Y.; Zhou, Y.-G. J. Am.
Chem. Soc. 2012, 134, 2442; (b) Lu, L.-Q.; Li, Y.; Junge, K.; Beller, M. Angew. Chem.,
Int. Ed. 2013, 52, 8382.
[2] P.K. Giesbrecht, D.B. Nemez, D.E. Herbert Chem. Comm. 2018, 54, 338
[3] P.K. Giesbrecht, D.E. Herbert ACS Energy Lett. 2017, 2, 549